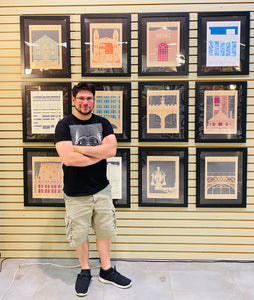 "There's so much life in these bricks. There's so much buildings can say." - Anthony Raneri, Bayside
In March of 2016, I began creating designs of buildings in my hometown of New Kensington, Pennsylvania. Influenced by art deco, minimalism and flat design, and also having an interest in architecture and history, I set out to render many of the "landmark" buildings of my hometown in that same style. Soon after the initial ten or so designs I created were finished, I began to branch out to create renditions of other towns and their landmark buildings. Presented here on this website are the complete (and continuing) collection, for sale as prints in a variety of colors, sizes and fashions. I hope you enjoy them as much as I enjoy creating them.
- Shane Henderson
Subscribe to my Email Newsletter
New prints, promotions and sales. Directly to your inbox.

Testimonials
Shane is awesome to work with and I couldn't be happier with the quality. Fast shipping and a great product! I definitely look forward to doing business with him again.

Russ M.
So excited to own such a cool and unique piece from my hometown! Shane finds a way to capture the heart of each architectural masterpiece with a sweet, simple (but detailed) style—like a more modern, 21st century Art Deco. Now I need more!

Meghan T.
Love Shane's work. Very detailed showing the interesting architectural intricacies of old buildings that are often difficult to see otherwise. Focus is very much on the fine details that make these buildings so beautiful. If you have an interest in architecture, you'll love these prints. Shane is great to work with and was even willing to make me 2 prints in a size not normally stocked simply because I asked. Excellent personal service and prompt shipping and very well packaged as well!

Nikki B.
Shane does great work! He's a very talented artist. I love the prints I have gotten from him. They are very well done and the details are impeccable. I will definitely be ordering again!

Sunny S.
I enjoyed working with Shane to obtain one of his works of art. He is easy to work with and his architectural drawings are beautiful. I am happy with my purchase and am looking for more wall space so I can purchase another!

Lori M.